{{ p.size }}
{{ p.colorName }} ({{ p.measurement }})
Quantity: {{ p.quantity }}
What is Interdental Brush
Interdental brush suited for removing interdental plaque.
Plaque removal rate is improved to 95% by combination use with toothbrush.
Just brushing by toothbrush, whereas clean only 58% of the plaque between the teeth, the interdental brush and toothbrush are able to remove plaque up to 95%.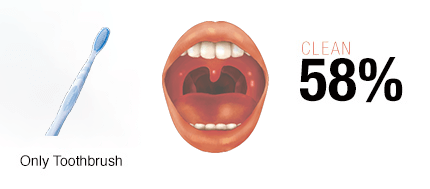 01
Surpassing ISO standards (of 50 times quality test)
The standards we set for the wire endurance test ( 90 degree bending test that put a 500g weight on the brush ) for the I shape is 1,000 times. L shape is 500 times (ISO standard is 20 times).

*ISO Standard : 20 times
*The wire endurance test is one of our quality inspection processes.

02
Uses two types of bristles
Using thin bristles for the front and thicker ones for the rear end of the brush makes it easier for insertion between teeth and more gentle when brushing the gums (except for size 0 and 1).


03
Broad line-up products
We developed 7 different sizes for L shape in order to match the conditions of your teeth and gums.